El Cid is one of Los Angeles' most iconic restaurants and venues, operating as a flamenco supper club since 1963 in its 16th century Spanish-inspired home and more recently as a popular live entertainment venue. The restaurant harks back to its Old Hollywood roots as a 1920s speakeasy.
Connecting the past with the present.
El Cid approached Code Rodeo to reimagine their online presence by designing and building a new website that connected their historic past with a younger contemporary audience, and to build and engage that audience through social media.
We began by working to understand the disparate demographics of their audience – an older and more traditional flamenco supper club audience, and a younger live music and entertainment audience – and set out to design a site that would bring the two together. It had to present a simple user experience for an older audience, a responsive and ticket sales driven mobile experience for a younger audience, and an aesthetic that nodded to El Cid's historic status without appearing dated. We designed and developed a custom WordPress site based around their existing Ticketfly sales system to allow the client to easily manage their own content, and integrated social sharing as a fundamental feature of the site.
Think social, act local.
We also redesigned their social media presence, creating a contemporary and cohesive brand identity across multiple platforms and unifying their online voice. We worked to grow a younger and more local audience, and to highlight a renewed focus on El Cid's new chef, menu and special dining events. Using custom and curated content, special events, leveraging local groups and paid and earned media, El Cid has seen substantial growth in followers, reach and engagement, particularly within their target demographic. We even pulled some PR strings to deliver them food media coverage, which had eluded them for years.
Beyond the screen.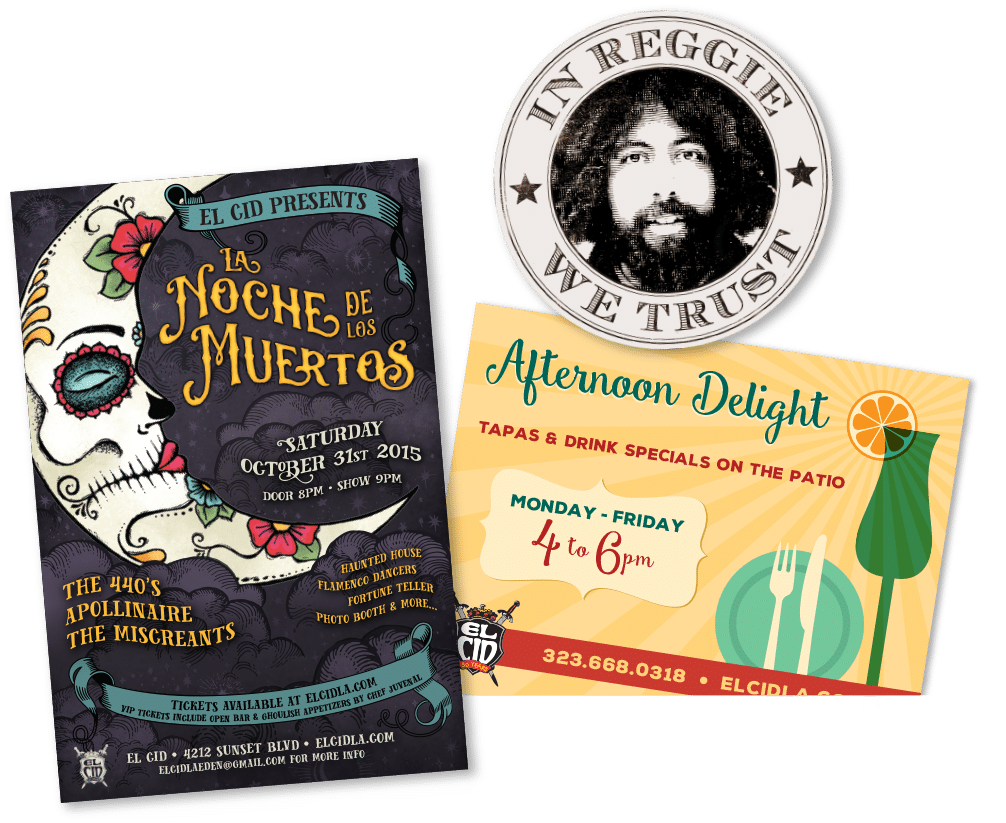 Code Rodeo supported this new direction with print design, extending the brand identity we helped create into physical print collateral. Everything from posters, postcards and Sunset Blvd banners to collectible coasters and menu design. We helped launch their patio dining restaurant, La Verbena, with brand and logo design backed by influencer events and food media coverage. El Cid's revitalized online brand is now driving their real world growth.